Fifteen years ago I became the Official Santa for the Hollywood Christmas Parade. The official charity of the Parade is the Marine Corps Toys for Tots Foundation (T4T), which originated in Hollywood in 1946. Working with the T4T foundation's leadership, it was very easy for me offer to lend a hand and give some of my time, and resources, to this wonderful program.
After as few years of volunteer work, the T4T annual report featured a few photos of me working with the Marines, and calling me the "National Santa," for Toys for Tots.
I donate my time, services and resources to this highly recognized program. This inlcudes photo sessions and public appearances for T4T marketing, special toy distributions in areas of national disasters, attendance at T4T's Annual Coordinator's Conference and any other tasks they ask me to do.
Additionall, with a network of over 2,500 Santas across America, I try to link local Santas to any of the over 800+ regional campaigns in the U.S., the Virgin Islands, and Puerto Rico. For more details on Toys for Tots, or to make a donation, please visit their web site: www.ToysforTots.org
T4T was started by Marine Reserve Major, Bill Hendricks, when he enlisted the aid of his fellow Marine Reservists and collected over 5,000 toys during a campaign before Christmas 1947. The following year the United States Marine Corps expanded the program nationwide with all Reserve Units. Since Major Hendricks worked in public relations, in Hollywood, he was able to recruit studios and celebrities to help promote the campaign.

He even enlisted Walt Disney who personally came up with and designed the Toys for Tots logo, which is still used today.
In addition to coordingating Santas for local and regional campaigns, I also volunteer my time at major events with the Toys for Tots Foundation. If they call, I go wherever they ask. In this capacity I have gone on special airlifts that delivered tens of thousands of toys for children who were affected in disaster hit areas, including Hurricane Sandy, and last year's, Hurricane Matthew.

The Navy Flight Demonstration Squadron, better known as the Blue Angels, annually receive approval for the utilization of "Fat Albert" to support the Marine Toys for Tots Program in special humanitarian, "Toy Airlifts."  

Following the devasting effects of Superstorm Sandy, Marine Captain John Hecker, Fat Albert's Commander, and his team flew Fat Albert to Atlanta and to Washington D.C., where pallets of toys donated by Lockheed Martin employees and the Hasbro Toy Company were loaded on the aircraft and flown to Joint Base McGuire-Dix-Lakehurst, in New Jersey.

Children living in areas hit by hurricanes, flooding, tornadoes and other disasters often lose all of their toys and belongings.  By "all," means everything from their birth to the present.  These airlifts, and other efforts by local and regtional Toys for Tots campaigns, try to give these children something to replace what was lost: toys, books and games they need to aid in getting them back to some form of normal life.

Last year a similar airlift was made to Fayetteville, NC for children who were victims of Hurricane Matthew.  Upon arrival the airlifted toys are married up with truck loads of toys donated by Toys "R" Us, and other major toy companies, plus batteries from Duracell, and delivered to less fortunate children via the local Toys for Tots Campaign teams.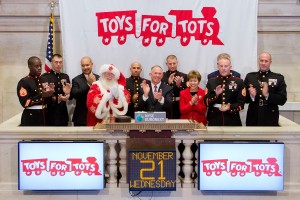 Each year, on "Black Friday," the day after Thanksgiving. a team of Marines, led by T4T Foundation President and CEO, Lt.Gen. Pete Osman, and joined by Santa Claus, ring the opening or closing bell of the New York Stock Exchange(NYSE).

This special invitation from the NYSE is their way of saluting T4T, the Marines and the thousands of volunteers who dedicate themselves to aid millions of children each year. Annually, over 8 million less fortunate children receive millions of toys donated, collected or purchased by T4T.



Ringing the Closing Bell on "Black Friday", the biggest shopping day of the year, serves as a great reminder to the American Public to make a donation or purchase a toy for a less fortunate child.